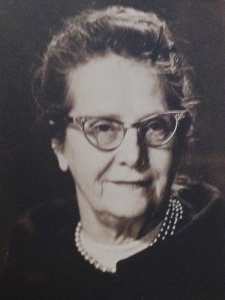 At two years old, Elizabeth English Benson was featured in the popular deaf newspaper, The Silent Worker (May 1906, vol 18, no. 8). The column, "Typical Children of Deaf Parents" (also known as "Types of Children of Deaf Parents") appeared regularly and featured photographs of hearing children. She was pictured with her sister and parents, Harry and Minnie Benson. Both parents worked at the Maryland School for the Deaf. Elizabeth continued the family's commitment to education- for 44 years she was employed at Gallaudet College in Washington, D.C.
Her career at Gallaudet began in 1926 when she became a member of the faculty. She taught audiology and lipreading to graduate students at the University. In 1950, she succeeded Dr. Elizabeth Peet as the Dean of Women. Her influence also extended beyond the Gallaudet Campus as she lent her considerable skills and knowledge to training African American instructors at the Hampton Institute in Virginia. She spent her summers helping to prepare those students to meet teaching certification requirements. She is remembered at Gallaudet University for her commitment to education. The first co-ed dormitory on campus, built in 1972, carries her name.
At the start of World War II, Benson was drawn to serve her country and temporarily left Gallaudet to lend her services to the American Women Voluntary Services and, later, to the Women's Army Corps. Benson worked with the WAC to provide support and resources to newly deafened soldiers. In the video presented by the Gallaudet Video Library below, Benson described her experiences with the AWVS and shows her uniform. In 2014, Benson was recognized for her contributions when a newly constructed barracks at Fort Sam Houston was named in her honor.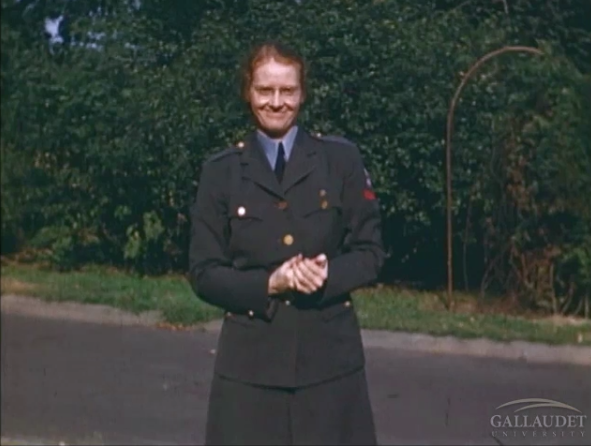 In Deaf Heritage, Jack Gannon described Benson as 'one of the most proficient interpreters of the deaf in the United States." (pg 410) In this role, Benson would interpret for notables and influential figures, including Presidents John F. Kennedy and Lyndon B. Johnson. It would seem that the call to interpret such high profile situations encouraged Benson to pursue a degree in law so that she might better serve deaf people in the courtroom. Benson was also a founding member of the Registry of Interpreters for the Deaf and a scholarship award bears her name.

For more information about Elizabeth Benson, see Deaf Heritage (pages 39, 409-410). Her Interpreting skills described in Inside Deaf Culture by Tom Humphries and Carol Padden (pg 121).