In July, KODAheart board members Jenn, Weston, and Bobby headed to Europe to present at the 30th annual CODA International conference. This year, the CODALAND-themed gathering was held in Reading, England just outside of London in a 'real-life' castle at Wokefield Park.  CODALAND was a record breaking conference with over 170 attendees from 15 different countries, the highest in the history of the organization.
It was a wonderful occasion to engage with multiple signed- and spoken-languages and learn from a diversity of coda experiences. We enjoyed  meeting new faces as well as seeing some familiar ones as well! The conference also provided us with the opportunity to present to codas from several different countries on the subject of koda and deaf family outreach. KODAheart's presentation, "Mind the Gap; fostering connections between kodas and codas," focused on the importance of building a bridge from kodas to CODA. Participants were led in group activities as well as dynamic brainstorming sessions each geared toward identifying gaps and solutions. The conversations this presentation generated were incredibly productive and attendees left with newfound inspiration and a number of ideas and resources to take back to their communities. Our KODAheart scavenger hunt was a huge hit at the conference. Codas are fantastic detectives, and within a matter of minutes the first location was discovered! In just over an hour, all of the clues were solved and prizes awarded! Congrats to the winners of the KODAheart swag, and thank you to all the fiercely competitive participants for taking part in the hunt! 

The KODAheart team was honored to be invited to participate in a CODA UK & Ireland koda family outdoor day of fun. On the last day of the conference, the CODA UK & Ireland team hosted a KODAthalon on the grounds of the castle for families in the surrounding area. Children and parents, along with KODAheart and other coda volunteers, had a fantastic time playing recreational games, including… There was lots of laughter, cheering, and tons of water, no one walked away dry! We've put together a video that showcases the event for anyone that missed it. A blast time was had by all! Huge thank you to the CODA UK committee, you all put on an incredible conference and we were thrilled to be able to work with koda families while we were there! A truly fantastic job all around!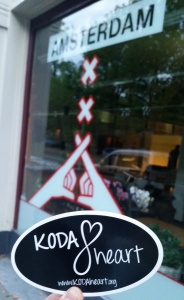 Following the conference we traveled to Paris and Amsterdam, visiting not only iconic landmarks but also famous deaf historical sites as well. In Paris we stopped at the Institut National de Jeunes Sourds de Paris, the world's first public school for the Deaf founded by Abbé Charles-Michel de l'Épée in 1760. Traveling through Amsterdam, we spent time at the local deaf club where they graciously gave us a tour of the impressive facilities and shared with us stories of their community. These exchanges provided a great insight into the experience of deaf people and koda families in these countries. Of course, they were also a great chance to practice our international sign skills!
Along the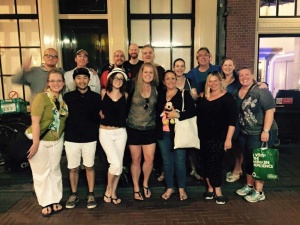 way our coda connections also continued. Not entirely ready to say goodbye at the end of the conference, several dinners were planned in both Paris and Amsterdam by local codas. Everyone dined on delicious food and enjoyed the local atmosphere- there was even an impromptu performance by Nate Tao and our own Bobby Loeffler! Thank you to those who put together the logistics for these last minute gatherings!
At the end of fourteen days of travel we were grateful for the extraordinary experiences we'd had. We were able to meet with wonderful people in amazing places and have meaningful conversations with and about c/kodas from all parts of the world. We were gratified to have the opportunity to spread KODAheart love everywhere we went. To see more about our travels, follow #K3travels on instagram!