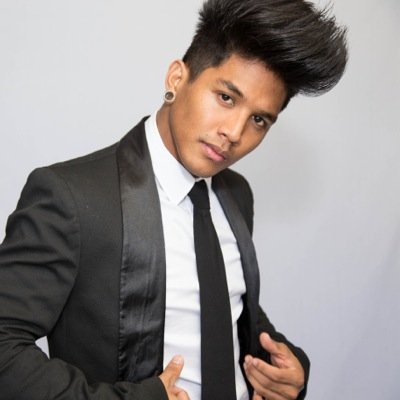 Mark Villaver, the YouTube sensation well-known for dancing with his deaf mother, recently took his talents to FOX on "So You Think You Can Dance." Born July 3rd, 1990 in Honolulu Hawaii,  Mark was the second of four children. His mother Emilia was born in the Philippines in 1968. At the age of two, she moved to Hawaii with her family. Both Emilia and her twin sister Amalia attended a mainstream program at McKinley high school. During this time they developed a love for dancing; often at various teen dance clubs including Latin Villa with their Aunt Elena and Uncle Bernie perfecting their dance moves. It was in these various dance clubs that they were first exposed to pop dance by the Jacksons that inspired the two of them to develop their own pop-and-lock routine.
A few years later, Mark would develop his own love for dancing in that very same garage. In fact, it seems the whole family has an interest in dancing; Erilia, the oldest, began dancing hula at two years old and, by age eight, began hip-hop classes. His younger siblings, Camalia and Brian Jr., both played the ukulele as well as danced. Surrounded by all of this musical talent, it was a common occurrence to bust out the sound system at family gatherings and show off their skills on the dance floor.  
In middle school Mark formed a dance group named Unique Style Breakers, also known as "USB". Dancing was truly his passion and the majority of his free time was spent either dancing or hanging out with his friends from his dance group. After graduation in 2008, Mark struggled to figure out how to take his love for dance further. He eventually found his way to 24-VII Dance Force Studio located in Oahu, HI. It was there that he continued to craft his dancing skills and in March of 2012, Mark made the move to L.A. to pursue a dancing career full-time. After applying to several dance agencies, he got his first professional break when he was cast on a Disney kids show "Shake It Up." After a few other appearances and despite failed auditions, Mark was determined not to give up. In 2013 he was hired to be a backup dancer for Taylor Swift's Red tour. This led to several other tour appearances with Ariana Grande, Demi Lovato, and Taylor Swift again for her 1989 tour. In 2015 Mark's hard work was recognized when he won the prestigious World of Dance's "Breakthrough BBoy" award.  
After his last tour with Taylor Swift, Mark was on the look-out for his next opportunity. In the spring of 2017 he auditioned for Season 14 of So You Think You Can Dance, a reality TV show on FOX. In an interview with Honolulu Magazine, Mark shared story of how he decided to audition. "This [casting producer] just reached out to me, that's an opportunity. I'm just going to do it. I was like, I have nothing going on for me, so I might as well just do it already. I have nothing to lose. Why not? Let's just have fun. Let's just do it. Then, boom, I'm auditioning."
Mark was the first contestant to compete on the first episode of the season and he made an impressive debut in the breakdancing genre. The judges were wowed by his performance and gave him a ticket straight to the academy, skipping the second round! Mark was paired with SYTYCD Season 4 contestant Comfort Fedoke and he made it all the way into the top 7 of the competition before he was eliminated. "He's amazing," His partner said of him on the show. "He's not just a personality. (He's) an extremely incredible dance artist."
Since his appearance on the show, Mark has continued to perform various gigs around the world. His top 10 finish on SYTYCD means that Mark has a spot on the national performance tour with the cast of Season 14. For dates and locations of the tour check out FOX's site.
To learn more about Mark, take a look at Deaf and Hard of Hearing Network's interview in ASL with Mark and his mom Emilia. Keep up to date on Mark's newest projects by following him on Instagram, Twitter or Facebook. Catch his previous performances and collaborations on Youtube.