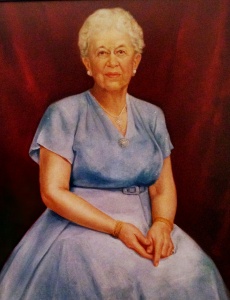 A third generation educator and administrator, Elizabeth Peet was part of a legacy in Deaf education. Her grandfather, Harvey P. Peet served as principal of the New York Institution for 36 years. Her father, Isaac Lewis Peet grew up at the school and, after attending college, returned as an instructor. While teaching, he met Elizabeth's mother, student Mary Toles Peet, and they married in 1854. Isaac succeeded his father, Harvey, as principal thirteen years later.
Elizabeth was born in New York City on March 26, 1874. She was one of four children, and the only daughter. Sources indicate that Elizabeth learned to sign at a young age. In an interview, one newspaper wrote in that it was " as natural for her to talk that way as in the ordinary way- "for after all my mother was deaf and I learned when I was very little" [Deacon Daily Journal, April 15 1937]. Raised at the Fanwood School, Elizabeth was very involved in the deaf community, often working as an assistant to her father [Maryland Bulletin, May 1930, pg 125-128].
She was briefly an instructor at the Rhode Island School for the Deaf (from 1899 to 1900), before she joined the faculty at Gallaudet College. She began teaching at the school in 1900. She studied for her bachelor's degree at George Washington University while working at Gallaudet, receiving it in 1918. Elizabeth was also awarded an honorary Masters of Arts from Gallaudet College in 1923 and an honorary Doctor of Pedagogy in 1937 from George Washington University [Buff and Blue, Fall 1950, pg 5-7].
Elizabeth was known as the "Kendall Green Mother" and  her "students labeled her as a strict teacher, a mother, a nurse, and a kindly guidance counselor."  She was a Professor of Languages, teaching Latin, Spanish and French, as well as sign language to students and new teachers. In 1928 she was named dean of women, a position she held until her retirement. According to a Kendall newsletter, she was the only member of faculty to serve under all of the first three presidents, Dr. Edward Miner Gallaudet, Dr. Percival Hall, and Dr. Leonard Elstad [Raymond Baker, "The Woman of the Half Century" Once a Month, January 1950, 29 no. 4].
Elizabeth was described as "a sign language expert" and "a world authority on the manual alphabet and the language of signs, their history and etymology, Dr. Peet is often consulted in this regard by people everywhere." [Gallaudet College, press release, April 4 1950, pg 2] To learn more about her attitude toward signed languages, read her 1921 lecture to undergraduates at Gallaudet College. Elizabeth was involved in a number of organizations, including the Phi Kappa Zeta (OWLS) sorority and the Conference of American Instructors of the Deaf. She also served as assistant editor to the American Annals of the Deaf.
A former student of Elizabeth's, Helen Northrop, wrote that there were never good photos her teacher, "The reason for this I have since decided was that in all situations, whether speaking herself, or listening to the conversations of others, Miss Peet's face was always animated, often vivacious, and expressive face that seemed unnatural in the set pose of the camera." [Letter from Northrop to McVan, dated February 14, 1949]
See her in action in this 1939 video in the Gallaudet Video Library: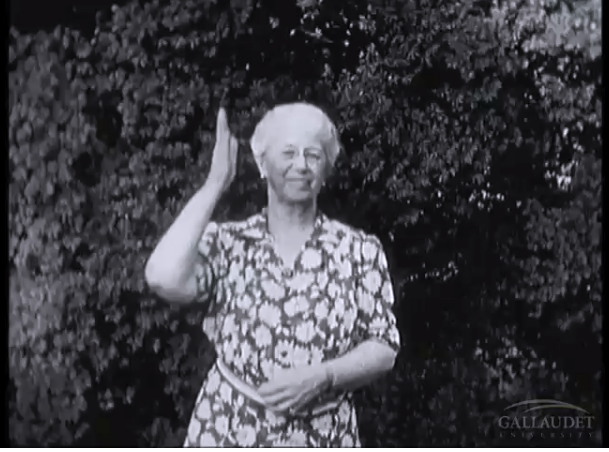 She retired in 1951 and six years later, the Elizabeth Peet Residence Hall was dedicated in her honor. Though the dormitory was built as a women's residence hall, it became co-ed in 1980. More recently the building has become home to the Gallaudet University Press and Gallaudet Interpreting Services. Elizabeth died June 29, 1961. She was inducted to the Gallaudet University Hall of Fame.
Learn more about her family legacy in the Maryland Bulletin, May 1930, pg 125-128 or view Rebecca Edwards presenting in this video from the Gallaudet University 150th Anniversary conference, The Legacy of the Peet Family in Deaf Education [beginning at 26:58]. Read about her in Deaf Life, April 2011, pg. 19, or see her biographical file at the Gallaudet Archives.