Daughter of George C. French and Caroline Brown French, Luella Nyhus was an important advocate for deaf citizens in Minnesota in the early twentieth century. She worked closely with deaf organizations to promote the employment of deaf workers in Minnesota and across the United States.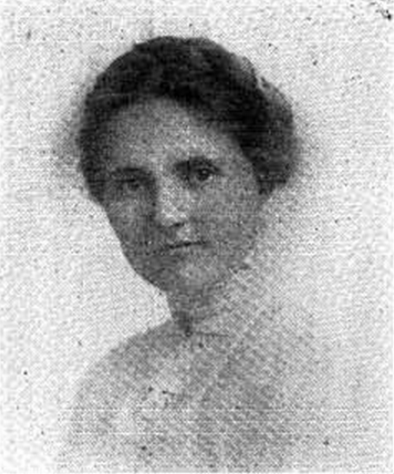 In 1916, Nyhus was appointed Superintendent of the Division for the Deaf in the Department of Labor and Industries in St. Paul, Minnesota. The position was previously held by Petra Fandrem, a deaf woman who left to marry J.C. Howard, president of the National Association of the Deaf (Silent Worker, vol. 28 no. 10, 1915, pg. 183). Given her close ties to the deaf community and her sign language skills, Nyhus was described as "particularly well-qualified for this work." (Northwest Druggist, vol. 17 no. 7, July 1916, pg. 61). In her role at the Department of Labor, Nyhus worked tirelessly to aid deaf men and women in securing employment.
In 1917, Nyhus reported on this work to the Minnesota Association of the Deaf Convention at St. Paul. She noted that businesses "refused to employ deaf men" and "insurance companies refused to insure deaf men." She explained that "factories were afraid that the deaf would be more liable to accident than hearing men." Nyhus described these fears as the product of "prejudice and misinformation" and "contended that there was no justification in the action of the factories and the insurance companies." (Biennial Convention of the Minnesota Association of the Deaf, pg 27, 41-42).
As members of national and state deaf organizations struggled to challenge these negative perceptions, the contributions of individuals like Nyhus was critical. In her capacity at the Labor Bureau, Nyhus also undertook a study of the experiences of deaf workers, gathering important statistical information on job performance and discrimination (Ohio Chronicle, vol. 49 no 32, May 19, 1917, pg 2). For instance, she identified that "employers paid deaf workers less than hearing co-workers for the same work." (Illusions of Equality, pg 62).
During a period when deaf people struggled to obtain jobs and were denied insurance coverage, her studies provided invaluable support to deaf advocates seeking to overturn negative perceptions and ensure employment opportunities for deaf men and women across the country.
Nyhus' recommendations had influence on a national scale. The Pelican, a publication of the Louisiana School for the Deaf at Baton Rouge, for instance, republished Nyhus' job advice in 1918. In this article, Nyhus described potential employment opportunities for deaf people and described her recent experiences in placing deaf individuals. In particular, she made recommendations for young deaf women, encouraging them to pursue positions as billing clerks – an occupation field with high demand and steady pay. (vol. 38 no. 6, June 22, 1918, pg. 6)
Learn more about Luella Nyhus and deaf workers in the early twentieth century in Signs of Resistance by Susan Burch and Illusions of Equality by Robert Buchanan.