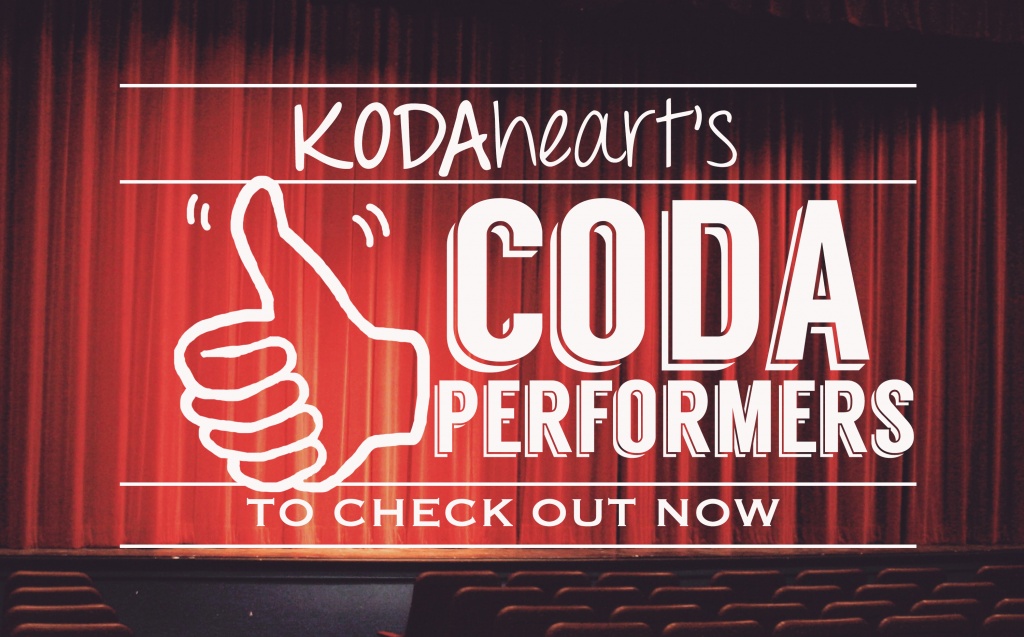 Many of the codas that have performed on the stages of theatres and stadiums, in movies, TV shows and radio broadcasts, had their start practicing at home, at school, or with their families at local Deaf clubs. From the "man of a thousand faces" and "Nurse Rached" to American Idol and CSI Miami, KODAheart is shining a spotlight on some of the C/Kodas that have made a name for themselves in the entertainment world.
1. Bonnie Kraft's Tomorrow Dad Will Still Be Deaf is a classic example of Coda storytelling. Raised by expert storyteller and mother, Elinor Kraft, Bonnie's ASL stories are timeless, full of humor and heart. Be sure to watch her interview with Ben Bahan for further insight into her coda experience! You can buy your copy here. Watch some of Kraft's performance in this video from Dawn Sign Press:
2. If you followed the last season of The Voice, you may have seen koda singer, Treeva Gibson as she impressed the judges with her powerful voice! Though Gibson was eliminated from the competition show, she has continued to pursue her dream as a professional singer, even as she completes High School. Watch her perform here.
3. If you use facebook or twitter, you've likely encountered the zany comedy of the CODA brothers, Andy and Ben Olsen.Their videos, which make light of situations that face most members of the Deaf community, have been shared all over social media, and their youtube channel has almost 14,000 subscribers! Watch this clip for a great example:
4. If you enjoy spoken word poetry, check out Edward Maloney's koda inspired performance filmed at the Kennedy Center in Washington, DC.  This young performer brings a fresh perspective by incorporating both English and American Sign language for "Mother," a piece dedicated to the heritage language and life lessons passed down from parent to child.
5. Always good for a laugh, actor and comedian Craig Gass has been featured on a range of TV programs, from Law and Order to King of Queens. He also released a DVD and CD of his stand-up set at Dave's of Milton Lounge and Comedy Club in 2013. Check out his impressions and learn more about him in this interview with Comics Unleashed:
6. You probably recognize his stage name "Abababa", Alan Abarbanell has been around the globe performing his own personal coda stories which will have you both laughing and crying! Find out where he is traveling next by following him on facebook. In the meantime, check out his youtube page to hold you over till you see him in person!
7. In 2013, Nate Tao impressed the judges of American Idol with his singing voice. Now he's in demand all around the world, performing at the LA marathon and at "Abroadfest in Barcelona already this year. With a second album already in the works, Tao is definitely someone to keep your eye on! Follow all his performances at his website and his adventures on instagram.
8. Mark Villaver sure knows how to boogie! A video clip of Mark dancing with his deaf mom recently went viral across the internet, but did you know that this coda dancer has gone on to perform for Taylor Swift's "The 1989 World Tour"? Follow his upcoming dancing adventures on facebook or youtube!
9. Perhaps most well-known for her appearance in the film, Sweet Nothing in My Ear, Arlene Malinowski has developed a successful acting career, appearing in TV shows that include CSI: Las Vegas, the X-Files, and ER. Her current projects include a one-woman show, "A Little Bit Not Normal," check it out below!
10. Laurent Schumann is a French rapper known as Radikal MC. He combines both French and LSF (French Sign Language) in his performances- creating an environment shows that are pleasing to both the ears and the eyes! You may have seen him incorporating his Coda experience in performances on youtube or through HIP OPSESSION 2016.
This 10 list is just the tip of iceberg of all the great codas in the entertainment world! For more behind the scenes information on k/codas, check out our KODA Spotlight page! Know of additional c/koda entertainers/performers/ hollywood stars? Please share them with us at oneKODAheart@gmail.com and we will add them to future lists!