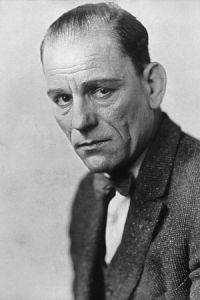 A well-known actor of the silent film era, Lon (Leonidas) Chaney was born in 1883 in Colorado Springs, Colorado. Chaney was one of four children, all hearing, born to a prominent deaf family. In the decade prior to his birth, his grandparents were involved in the founding of the Colorado School for the Deaf and Blind in 1874.
Chaney was drawn to theatre in his youth, however his mother was bedridden with Rheumatism so at the age of 10, he quit school and became her caregiver, helping out with his younger siblings. He spent his summers working as a tour guide at Pikes Peak as well as picking up odd staging jobs at the nearby Opera House to help support the family. When his older brother John started his own traveling troupe, Lon quickly jumped on board, first working behind the scenes, and eventually performing (Gazette). For the next thirty years of his life, he traveled and performed as an actor and dancer. Soon he was drawn to motion pictures, starring in numerous silent films and gaining the title, 'The Man of a Thousand Faces.' Chaney performed in over 150 roles, He starred in such films as The Hunchback of Notre Dame (1923) and The Phantom of the Opera (1925) (Gazette). He was extremely skilled in makeup artistry as well as pantomime and is known for developing the techniques he used to transform himself into memorable characters.
Learn more about Chaney's impact inThe Phantom of the Opera below:
Said to have been a true genius of an actor and incredible creative ability, Chaney experimented with makeup techniques and costume design creating characters that came to life on screen, unlike any other characters of other films during that era. He went to great lengths to create these unique characters from wearing a 20 pound plaster hump on his back in "The Hunchback of Notre Dame", a legless man,  taping his nose up to alter his face shape for "The Phantom of the Opera", or creating entirely different facial structures to portray monstrous characters in his horror films- he really drew his audience to embrace each of these characters. To learn more about his creative genius watch this short documentary below. It showcases Lon's true commitment to his work and shows how creative he really was in his character's costumes.
Chaney was always raising the bar when creating costumes for his roles. He was able to sell every scene to his audience in a way that ultimately built up his legacy as one of the most impactful silent film era actors. Film professionals believed that his upbringing with having deaf parents had a huge influence on his ability to convey emotions and communicate to the audience using his facial expressions. He was truly unmatched in this regard. In the 1930's he made the transition to spoken film where he was able to show just what he was capable of. Symbolically his life ended with the end of the Silent film era after his only spoken film "The Unholy 3".
At the height of his career in 1930 at the age of 47, Chaney died, the result of bronchial (lung) cancer. After his death, he was honored by receiving a star on the Hollywood Walk of Fame and memorialized on a United States Postage Stamp. Lon Chaney's family has continued his legacy through Chaney Entertainment Inc., visit the website to read his biography and for a full list of his filmography. The Public Broadcasting Service produced a biographical episode entitled, Lon Chaney: A Thousand Faces in 2000, for the American Masters series. His IMDB profile also provides insight into this historical figure.