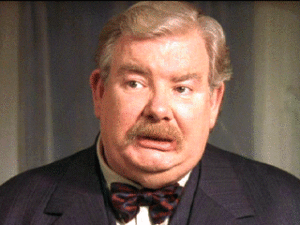 Perhaps best known for his role as Vernon Dursley in the Harry Potter films, the award-winning Richard Griffiths should also be recognized as a member of the UK deaf community. He was born in Thornaby-on-Tees, a town in North Riding of Yorkshire, England. Both his parents, Jane and Thomas Griffiths, were deaf and the family used British Sign Language in the home. In an interview with The Limping Chicken, a UK deaf news source, Griffiths discussed his upbringing; "He said that as a child, he thought everyone's parents were deaf until he went to school. It was only there that he realized other children's parents were hearing, and that there was anything different about his own family. Until then, deafness, and communicating in sign language had been the norm to him."
As a young man, Griffiths was drawn to performing. He began his career working in both radio and theatre. He was a skilled actor on stage, film, and television and well-known for his mastery of dialects. He received many awards for his role in the play History Boys and also appeared in the films, Withnail and I, Pie in the Sky, Pirates of the Caribbean: On Stranger Tides, and Gandhi. Through his success, Griffiths maintained a connection to the deaf community as a supporter of Deaffest, a film and arts festival in the UK. In 2012, he was featured in an interview with the organization and used BSL to encourage deaf actors and filmmakers, watch his message  here.  The following year, Griffiths died of heart surgery complications.
For more information about Richard Griffiths, visit his IMDB page, read his bio, and the obituary prepared by the LA Times.