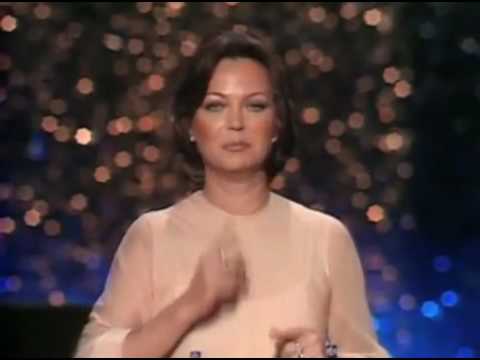 Louise Fletcher was born in Birmingham Alabama in 1934. She is the daughter of Reverend Robert C. Fletcher and Estelle Caldwell. Her father was well known in the deaf community, having founded forty churches for the deaf in Alabama. Reportedly, Fletcher was introduced to acting by a hearing aunt and she went on to receive a degree in drama from the University of North Carolina, at Chapel Hill.
After moving to Los Angeles, California, she pursued acting professionally. Throughout the 1950s and 1960s, she appeared in films and television. Perhaps most well-known for her outstanding performance as Nurse Ratched in One Flew Over the Cuckoos Nest, Fletcher received an Academy Award for Best Actress, as well as a Golden Globe and BAFTA award for the role. As she accepted her Academy Award in 1976, Fletcher addressed the audience in spoken English and then signed to her family.
"…and if you'll excuse me, [in ASL] for my mother and my father, I want to say thank you for teaching me to have a dream. You are seeing my dream come true. Thank you."
View a transcript or watch the award ceremony below:

She also starred in other films including Brainstorm (1983), Firestarter (1984),Flowers in the Attic (1987), 2 Days in the Valley (1996), and Cruel Intentions (1999). More recently she returned to television and appeared on Star Trek: Deep Space Nine and the Showtime hit series Shameless.
For more information about Louise Fletcher, visit her IMDB page, read a biography by the New York Times, or learn about her and her family in Deaf Heritage by Jack Gannon (pages 184-185, 383).