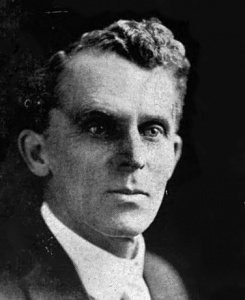 Frank Read Jr. was one of many children of deaf adults involved in deaf education. He served as superintendent of several deaf residential schools and was a lifelong advocate for deaf people.
Frank and Cassie Read, graduates of the Illinois School for the Deaf, raised their four sons in Jacksonville, Illinois. His father was a teacher at the Illinois School and editor of the Illinois Advance. James Ernst Gallaher remembered, "Read frequently came to the printing office to help his father with the paper, and thus he became known to the pupils. He mixed freely among them and soon became as fluent in the use of the sign-language as if he were deaf himself." (Silent Worker, May 1914, pg 150 ) Read served as assistant editor to his father. His brothers were also drawn to their father's work; Philip and Elmer also worked as educators and Utten became a minister to the deaf.
Read graduated from Illinois College in 1888 with both B.A. and M.A. degrees and returned to his family's alma mater. He held positions there for twenty-one years, as supervisor, instructor and head teacher. During this period he married Kate Stevenson (also an instructor that had worked at the Kansas, Iowa, and Illinois residential deaf schools). In 1912, he became the fourth superintendent of the Oklahoma School for the Deaf in Sulphur. In 1913, construction was completed on the main school building and he began his tenure (Oklahoma School for the Deaf Alumni Association). Two years later he moved to the North Dakota School at Devil's Lake where he served as superintendent until his death. During a period when oral programs were in place at other residential deaf schools, he was committed to the combined method and providing students with access to sign language (Detroit Convention of the NAD, 1920).
Read was also known as an interpreter and advocate for members of the deaf community. J. Ernst Gallaher described him as "the most expert interpreters of our language of signs" and the American Annals of the Deaf remembered him in an obituary, noting that, "Many were the difficulties and perplexities brought to him by his deaf friends for solution: legal entanglements, domestic problems, and other misunderstandings – all received the same careful attention, the same friendly advice." (pg 3)
Read more about Frank Read Jr. in the North Dakota History and People; outlines of American History (pg 457), learn about his tenure in North Dakota in the North Dakota School for the Deaf biennial, or check out the biography prepared by the American Annals of the Deaf (January 1921, vol. 66.1). Learn more about Read's contemporary coda educators in this Silent Worker article.