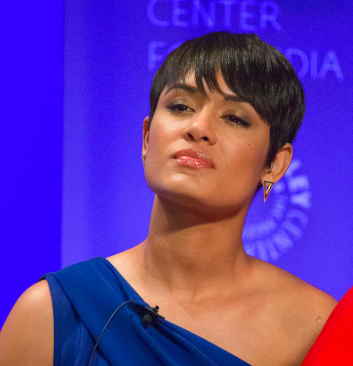 Actress Grace Byers, (née Gealey) is well-known for playing the part of Anika Calhoun in the hit FOX television series "Empire."  She was born in Butler, Pennsylvania, on July 26, 1984. At the age of two, she moved with her family the Cayman Islands, her mother's native home. Her father, an American, was born deaf and her mother, Cheryl McCoy Gealey became deaf after a bout of pneumonia. Grace's older sister, Faith, is also a Coda. Byers stated in an interview with Philadelphia Style, "Wanting to communicate in various ways is something I've always been attracted to." She like many other codas learned to sign before she spoke.
In an interview with The Doctors, Byers was asked to reflect what it was like growing up with Deaf parents and she stated "You know, so many people have asked me that question and it's so interesting because I don't know what it's like to be raised by hearing parents. So, I can't be like 'oh well', there's really nothing to compare it to." In fact, she remembered, "It wasn't until I was out in public that I realized that people were treating my mother differently." Confronting hearing people's perceptions of deaf people frustrated her, and she wanted to explain, "My mum can understand you, she just can't hear you."
Byers spent sixteen years in the Cayman Islands before returning to America to attend the University of South Florida in Tampa. She was drawn to the entertainment field and studied the theatre at as an undergraduate. There she was, "always involved and immersed in some form of the arts, whether it was dancing, singing or acting," she shared in an interview with the Cayman Compass. When asked what motivated her to pursue acting in an interview with Lumiere, Byers mentioned, "Performing (acting, singing, dancing) was the one thing that always made me feel like myself. It felt right. It felt familiar to my spirit. Creating, experiencing and learning various forms of art has always ignited, intrigued and enthralled me. I find it all joyous, fulfilling, challenging and enigmatic." Byers has indicated that her koda upbringing made her more attuned to the emotional states of others – she explained during an interview with Details Magazine,  "I can tell when someone is scared. I can tell when someone is lying. I can tell when someone is fake. It's so bizarre. I can tell when someone is hesitant—or has a little bit of trepidation—and no one else in the room can read it in that moment. But I can tell." These sensitivities served her well as a performer.
After receiving her Bachelor in Theater Arts, she pursued further education at the University of California, Irvine and received a Masters in Fine Arts in 2010. After graduating, she moved to New York City and accepted roles Off Broadway as the Venus Flytrap! Velma in Venus Flytrap: A Femme Noir Mystery and as Mimi in Rent. Soon, opportunities appeared in Chicago, and performances in productions of The Misanthrope as Célimène and Tartuffe as Mariane.  It was in Chicago that she caught the eye of Lee Daniels, a director seeking performers for a new TV show, Empire. Byers auditioned for the role of Anika and just a week later, she discovered she had won the part. "It was just the greatest feeling," she says. "I know that sounds cliché, but this was something I felt was slightly unattainable because of where I'd grown up. This isn't common for somebody of my culture."(Philadelphia Style).
Although Grace Byers has made it to Hollywood she has not forgotten her Cayman roots. She flies back a few times a year. She has stated, "its not just a time for me to reconnect with my earlier beginnings, but it is also absolutely essential to my constant journey as a evolving, ever-shifting, ever-changing being." (Lumiere) In an article for Good Housekeeping, Grace shared her personal experience about being bullied for being a coda, "My sister and I learned American Sign Language before we could speak. To us, it was normal. But a lot of the kids didn't know how to process it and took to bullying." It was these encounters that Grace tapped into when penning her first children's book "I Am Enough" about loving who you are and being kind to one another. Grace explains her experience as a first time author in an interview with Build Series here.
In a blog post for Essence Magazine, Byers reflected on her life and shared some advice to her readers, "We do not know each other's stories. Living the life I have lived, being raised by deaf parents, assimilating to a different culture and the challenges I have faced over time has given me insight to the fact that each person has their own complex, intricate story and it's rarely what I suspect it is. We must have compassion and grace for each other. We MUST. Each person slowly walking up the stairs in front of you that is making you late may be healing from a pelvic injury. Each person who cuts you off in the street could be rushing somewhere else to urgently aid a friend in need. Each person you scream at because they are so 'oblivious' and haven't answered your demands, could simply be deaf. We are all we have. Let's be unwaveringly generous in showering each other with compassion, patience and grace. We need it much more than we think."
For more information about Byers you can follow her on Facebook, Instagram, & Twitter.