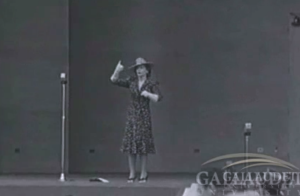 As an adult, Helen Menken was described as having a "fiery temper and versatile acting abilities" however, it is reported that she did not speak until she was four years old. (Ocela Star Banner) As a child, she was raised in New York City by deaf parents, Frederick and Mary Meinken, and her first language was sign language. She began her acting career at the age of five when she appeared on stage as a fairy in 'Midsummer Night's Dream'. With this early performance, Menken began a long career working in theatre, film and radio.
She worked steadily for two decades on a number of productions and was widely known for her acting skills. It was during this period, in 1926, the Broadway actress married renowned actor Humphrey Bogart. Though the two were married for only a year it was the first marriage for both performers. (IMDB)
Deaf Life magazine remembers Menken as the first individual to use sign language on television (Deaf Life, December 2011, pg 23). In May 1940, the National Association of the Deaf captured Menken on film at the World's Fair in New York. Students from the nearby New York School for the Deaf demonstrated their skills and showcased their arts and crafts on stage. (Learn more about this event at the Brooklyn Daily Eagle) Menken served as mistress of ceremonies with the well-known Bert Lytell, and in the video Menken can be seen speaking and signing for the audience (Another photo of both emcees is available through the New York Public Library).
Watch her address the crowd in this silent video at Gallaudet's Video Archive (Menken begins signing begins at 1:51)
In the 1930s and 1940s Menken moved from the front of the stage to play more behind the scenes roles.  For a complete listing of the production with which Menken was involved, visit the Internet Broadway Database. She also served as president of the American Theatre Wing from 1957 until her death in March 1966. Following her death, Menken was posthumously awarded a Tony Award Special Award in 1966. The award, for a lifetime of devotion and dedicated service to broadway theatre, recognized her commitment. For more information about this Coda performer, read about her life at the Jewish Women's Archive.