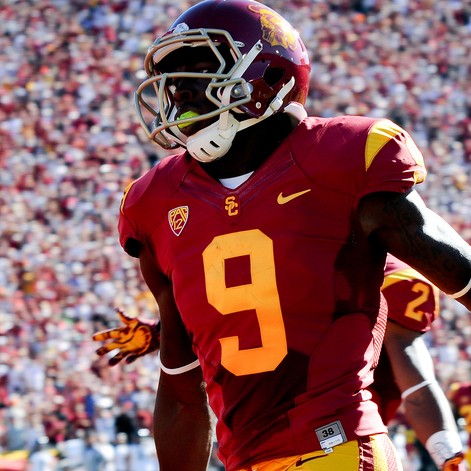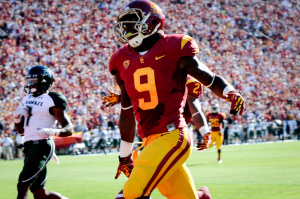 Marqise Lee is the fourth Coda to play professional football in NFL history. Lee was born in Inglewood, California on November 25, 1991. His parents, Elton Lee and Anfernee Williams, are deaf. Lee and his siblings, two brothers (one deceased) and one sister, moved frequently in their youth, spending most of their time with their mother and grandmother. By the time he entered his seventh grade in school, Lee and his sister had become wards of the state and entered the foster care system. During this difficult period Lee also experienced the death of one brother and the incarceration of another. His neighborhood became increasingly unsafe. Lee recounted in a recent interview with Pedro Moura of ESPN Los Angeles, "When I was younger, it wasn't that tough, … Then as you get older, you start to realize the situations that are happening around you."
During his freshman year in high school, Lee befriended Steven Hester Jr., and in September 2008, he moved in with the Hester family. He began attending a private high school with Hester, Junipero Serra. His efforts on the football field were initially overshadowed by other players but in his senior year, his skill attracted the the University of Southern California. Lee went on to play for the USC Trojans football team from 2011 to 2013. He was also involved in track and field at the university. As an athlete at USC, he was recognized for setting records and received the Biletnikoff Award. In 2013, he was named a unanimous All-American for USC.
In 2014, Lee was drafted in the second round to the Jacksonville Jaguars, at pick number 39 in the second round. During the 2017 NFL season, Lee had 56 catches for 701 yards and 3 touchdowns, helping the Jaguars get back to the playoffs for the first time since 2007. The team fared well in the AFC playoffs getting all the way to the AFC championship game before losing to the New England Patriots. This lead to the Jaguars resigning Lee to a new contract extention in March of 2018. To read more about how Lee fared as a Jaguar, visit this summary. For more information on his upbringing, Grantland compiled a biography, as has the Orange County Register and Los Angeles Times.