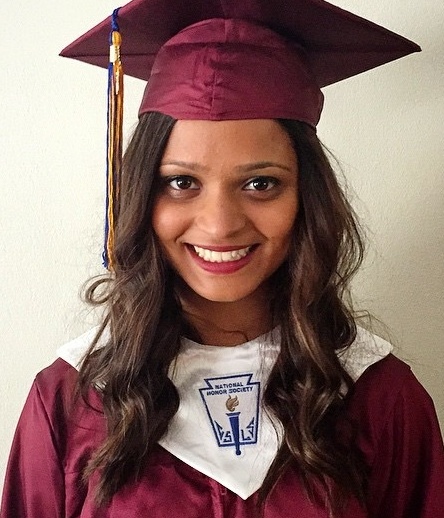 Recently, the KODAheart team sat down with Tamanna Phadke, a performer that is bringing her unique experiences to the forefront of her spoken-word poetry. Known for incorporating themes from her multilingual and multicultural coda background, Tamanna describes her poetry as a form of catharsis, a way of releasing her thoughts and emotions in a meaningful way.
Tamanna was born in Schaumburg, Illinois. Her parents Anil and Sarita raised her along with older sister, Trisha. "I like to think of my family as very open minded. We're multicultural in many ways … we value our Indian heritage, we have adopted American customs/traditions, and also practice Deaf culture. My sister and I describe our family as 'weird' as you'll always find us goofing off and having fun in our home." As teens, both Tamanna and Trisha spent summers at KODA Camp.
It was also around this time that Tamanna became involved in poetry. She was inspired by a poetry showcase held by her school's poetry club during her sophomore year. One performance was particularly moving and, Tamanna recalled, she found herself thinking, "that's something I could see myself doing." The following year she became a member. Soon after she joined the club, they formed a Slam Team, a select group of performers that traveled to different competitions. The team traveled to Chicago for the annual "Louder Than A Bomb" youth poetry slam contest.  Boasted as the world's largest youth slam poetry competition, over 70 teams and 2,000 people perform at the event each year. Each team moves through several competitive rounds, from preliminary to semifinals, before competing at the finals. Tamanna described the competition with excitement, "it's so awesome because you can hear all of their stories. I ended up auditioning for it and I got in. There were 12 people and I got super close with them and that is how I got started with the whole slam poetry concept. It was an awesome time." In March 2015, Tamanna performed a piece named "White Washed" for the Louder than A Bomb audiences.
It was around this time that Tamanna began to prepare a piece that drew from her coda experience. She remembers that she was inspired by her relationship with her parents, "I was kind of in a tough position with my parents as like every teen would be. I was a little too sassy and it kind of separated me and them. One day I got thinking I really appreciate all they do for me and I wrote that [piece] in honor of them."
Tamanna began her research by watching clips on youtube. There she found several performances that really resonated with her. "You can find so many poems about being a coda alone, I found maybe two or three that really spoke to me."
Tamanna explained that the writing process can span a few minutes to several days. Working from her inspiration, Tamanna put pen to paper. She began by making a list of everything she could think of about being a coda and growing up with deaf parents. She listed things about her parents she was grateful for. She also wrote about the common stereotypes people have regarding deaf people and those facebook videos of a deaf child hearing for the first time. "Those are two very strong topics that people are not very well informed about." Tamanna thought about how these items made her feel and the poem started to come together.
Even as she prepared this piece for a poetry showcase at her school, Tamanna began to consider how her family might experience it. She approached her club sponsor and asked about access. "Can I get my parents and get an interpreter so they could see it?" Fortunately, her request was met with overwhelming support, "she said yes, she was all for it, and we would make it happen."
On the day of the event Tamanna did not reveal to her family the topic of her poem, playing if off as if it was just a typical performance. "They asked me what it was about and I was just like, 'oh you'll see.' They really didn't suspect anything which was good because it wanted it to be a surprise!" With the interpreter in tow, Tamanna took her spot on stage and began her performance. "The minute they realized what my poem was about I could see them, tears in their eyes. It was an emotional event for all three of us." Unknowingly to Tamanna, by tapping into her own memories she touched upon several universal experiences shared by codas everywhere. She recalls before the performance shared the script with the interpreter, who was a coda, "he had tears in his eyes, saying I took the words right out of his mouth, it was that moment I knew I was starting something kinda big."
Tamanna shared a video of her performance with a few friends and family, and it spread quickly online. "The support I've gotten is unreal. I've gotten so many comments. 'I can so relate to this,' 'This is so awesome'. So many facebook comments and emails, my family, my koda friends saying how proud they are of me. It makes me very happy that I could say something that relates to a whole group of people that I love so much."
Although Tamanna has no upcoming works or performances she wholeheartedly endorses that others find a similar outlet for releasing their feelings.  "Writing poetry is always a positive experience no matter if it is a happy subject or a sad subject. It's a nice medium to get all your feelings out, and so I had a blast doing it – every single minute of it. Even though it was very emotional I would do it again, if I could get that feeling again and just performing in front of large audiences and kind of educating them what's near and dear to my heart I would do that every day."