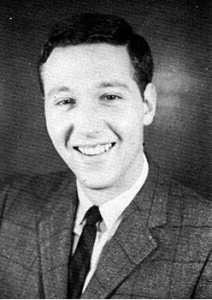 A passionate educator and advocate for the deaf community, Winfield McChord was raised in Kentucky by two deaf parents. His father worked as a linotype operator, and both graduated from the Kentucky School for the Deaf in 1935. McChord received a Bachelors degree from Transylvania College in 1962 and a Masters degree from Gallaudet before beginning a long career as teacher and administrator at several schools for the deaf.
His work in the field of deaf education began when he became a teacher in 1963 at the Virginia School for the Deaf and Blind in Staunton. Four years later, he became the principal. He also served as principal at the West Virginia School for the Deaf and Blind in Romney. In 1969, he became principal of the Kentucky School for the Deaf. After two years he became the youngest superintendent in the school's history. Later, he also served as Executive Director at The American School for the Deaf, Hartford for over twenty years. When McChord left ASD, he was succeeded by Harvey J. Corson, the first Deaf person to oversee the school. McChord also worked at St. Mary's School for the Deaf and the Georgia School for the deaf.
McChord was highlighted in an episode of Deaf Mosaic (#508) for his role at ASD. Watch this video at the Gallaudet University Video Archive to learn more.
McChord was also a key player in the founding of the Virginia Registry of Interpreters for the Deaf and was, reportedly, the first individual to be granted a Masters Skills Certificate as an interpreter for the deaf in 1973. He died suddenly in 2006, news that was a great shock to many members of the deaf community. (For instance, the biography of Dr. Robert Davila describes his dismay at the news, page 190). Many community members posted remembrances of him on AllDeaf.com and in other deaf press.
Learn more about him in Deaf Life, April 2012 (pg 14, 23) or read his obituary.
View this photo at the Virginia School for the Deaf and Blind alumni site.