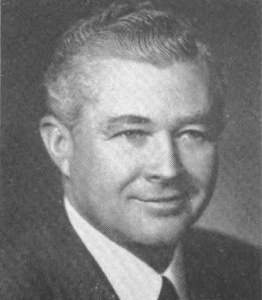 William Thornberry, known as Homer, was born in Austin, Texas on January 9, 1909. Both of his parents, Mary and William Thornberry, were teachers at the Austin School for the Deaf. As a young man, Thornberry attended Austin High School followed by the University of Texas. He worked his way through school as a deputy sheriff. He graduated in 1932, pursued a law degree and was admitted to the bar four years later.
As he was working as a lawyer in Austin in 1936, Thornberry was elected to Texas House of Representatives. Two years later, in 1941, he became District Attorney of the 53rd District of Texas. He held this position for only a year. He resigned to serve in WWII. After four years of military service, he was discharged as Lieutenant Commander.
He returned to Austin and in 1948 and he was elected Representative of the 10th Congressional District of Texas. He was elected to Congress in 1949. Thornberry was a member of a number of prominent groups and well known by politicians. He was a close friend and advisor of Lyndon B. Johnson. They met when Thornberry was a teenager. Thornberry was in the presidential motorcade with Vice President Johnson when President Kennedy was assassinated in 1963.
In this video, you can see Thornberry discuss the budget with president Lyndon B. Johnson.
Thornberry was a life-long promoter of the Deaf community. He served on the Gallaudet College Board of Trustees from 1949-1969. He was awarded an honorary Doctor of Law Degree from Gallaudet in 1954. The Thornberry Hearing and Speech Center, built at Gallaudet College in 1958, was named in memory of Thornberry's mother. President Johnson's interest in Gallaudet College was also attributed to their friendship. In an oral history held by the LBJ library, Thornberry indicated that President Johnson was a friend of his mother's and interested in working for the deaf community. In 1969 Johnson signed an act to create the Model Secondary School for the Deaf on Gallaudet campus.
In 1963 Thornberry was appointed to the US District Court and he served as US Circuit Judge in the Fifth Circuit Court of Appeals. Throughout the 1960s and 1970s he was involved in a number of Civil Rights decisions. In 1965, a building in Austin, Texas, now a courthouse and federal building, was named in his honor.
Thornberry died in 1995. Read his New York Times obituary. Learn more about his life in Representing Texas, the World Public Library, and Deaf Life (January 2013, pg 12). Learn about his internment at the State Cemetery. Learn about his influence on President Johnson in Lyndon B. Johnson; Toward a Great Society.