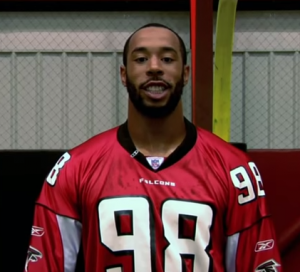 Jamaal Anderson is the third coda to be drafted to the NFL (National Football League) and the first one to be drafted in the first round. On February 6th,1986, at a hospital in Little Rock, Arkansas, Glenn and Karen Anderson welcomed their second child, Jamaal, to the world. Glenn and Karen had met while they were working on doctoral degrees. In fact, Glenn is recognized as the first Deaf African-American to obtain a PhD in the United States. Karen, who is hearing, applied for a position in his office at the Deafness Research and Training Center. She soon learned American Sign Language and they married. Both continued to play an important role in the Deaf community; Karen worked at the Arkansas Office of Rehabilitation Services for Deaf and Hearing Impaired, Glenn was the Director of Training at the University of Arkansas Rehabilitation Research and Training Center for Persons who are Deaf or Hard of Hearing for over 20 years. He also was appointed by George Bush to the National Council on Disability and has served as chair of the Gallaudet Board of Trustees.
In an interview, Karen emphasized that sign language was used at home by Jamaal and his older sister Danielle. "We're just like any other family. We just communicate differently," she told USA Today in 2007. In a 2011 interview for the Indianapolis Colts, Jamaal remembered, "It was something I grew up around. I had been doing it (sign language) since I was growing up. I could not tell you when I was not signing. When I was growing up, I just recall doing it." Growing up in Little Rock, Arkansas, Jamaal shared a love for sports with his father. Jamaal primarily played basketball and football until senior year when he quit basketball to focus on training for football. The decision paid off, Jamaal's senior season he broke Parkview High School's record for touchdowns. That fall, the 6'6" 220 pound wide receiver was recruited by several Division 1 universities.
Though Jamaal was recruited by several schools he decided on the University of Arkansas. The school was an obvious contender because his father worked there, but the Razorbacks were also appealing because he shared a connection with the head coach, Houston Nutt Jr. Nutt, was part of a legacy family in Arkansas. Known for their influence in sports (his father and two brothers were athletes and coaches) Nutt's family was also deeply embedded within the Deaf community; his parents, Houston Nutt Sr. and Emogene, worked at Arkansas School for the Deaf for 35 years. Nutt had grown up using sign language and in an interview with USA Today, Jamaal explained, "From the minute we walked in there was a great sense of family…We didn't need an interpreter…There was a great bond when he came to visit, and we knew that was the place I needed to be."
At school Jamaal found himself rooming with Antoine Dinka, a Deaf teammate, and at practice he used sign language with Nutt. Though Jamaal was initially recruited to U of A as a wide receiver, after a couple months of play the coach decided to switch him to defensive end where he ultimately thrived. Academically, Jamaal pursued a degree in sociology and was an honor roll student. During his junior season he amassed 13 ½ sacks and entered the draft where he was selected 8th to the Atlanta Falcons. Jamaal played seven seasons in the NFL, playing in 77 games for the Falcons, Indianapolis Colts, & the Cincinnati Bengals, totalling 96 tackles and 7.5 sacks. Throughout this period, Jamaal looked for opportunities to give back to the Deaf community, connecting with St. Rita's School for the Deaf and the Indiana School for the Deaf. Jamaal explained, "I wanted to show them that football players are real and that I know exactly what they're going through because of my father's situation. It was a great opportunity to be out in the community and show support to the students."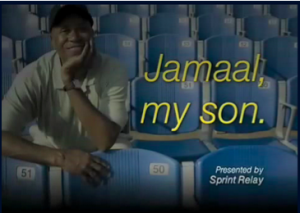 Sprint Relay produced a video about Jamaal and his family in 2008: (this video utilizes sign language and captions). Watch Jamaal, My Son here.
After an injury in 2012, Jamaal was forced to take a break from playing football. He is currently looking to make a comeback. For more information about his comeback read this article. To learn about his upbringing, visit this article in USA Today and this article by the Indianapolis Colts. To see Jamaal at the Indiana School for the Deaf, visit this link.